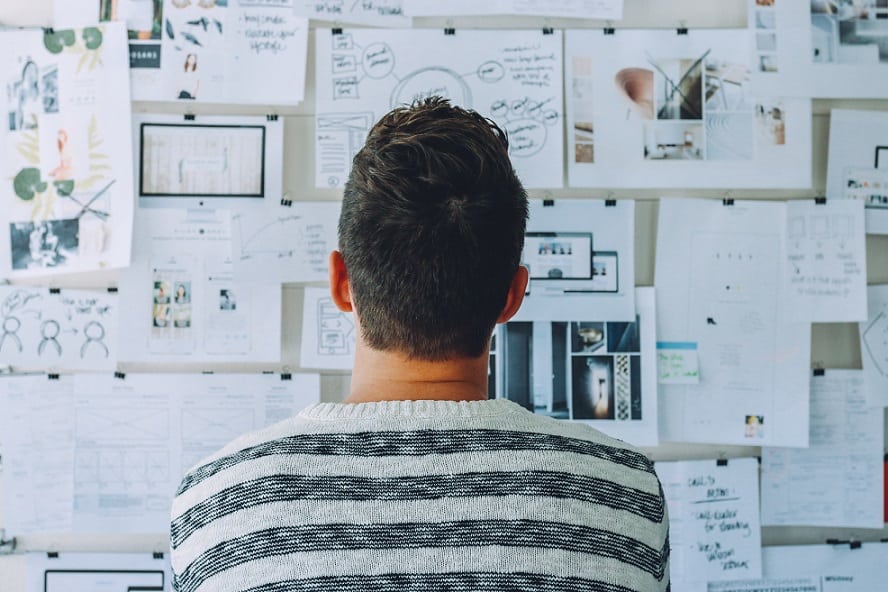 30+ Experts have compiled this list of Best Design Thinking Course, Tutorial, Training, Class, and Certification available online for 2019. It includes both paid and free resources to help you learn Design Thinking and these courses are suitable for beginners, intermediate learners as well as experts. So far, 12,000+ students and professionals have benefited from this compilation.
10 Best Design Thinking Courses, Certification, Degree & Training Online [2019] [UPDATED]
Innovation and idea when guided in the right direction can become invaluable. It is quite evident that design thinking can play a big role in bringing potential ideas to life. This course created by the University of Virginia promises to help you to become an innovative thinker and uncover creative opportunities ahead of time. It provides an overview of the whole concept by focusing on some of the most crucial questions of design thinking. The lectures use a model and several tools to understand the problem-solving techniques. This program is aimed at beginners but can be taken by anyone who wants to understand the art of coming up with innovative solutions to problems. You may also be interested in taking a look at Best Innovation Courses.
Key USPs-
– As the course is aimed at beginners, therefore, all the concepts are explained in an easy to understand manner.
– The certification provides equal emphasis on theoretical as well as practical approach.
-The series of lectures are followed by a final assignment.
-It is crucial to finish and pass the final assignment to obtain the certification.
Duration: 5 weeks
Rating: 4.6 out of 5
You can Sign up Here 
Review : As a design manager I should say this course actually opened my eyes to a new world. I hope be able to make good changes in my world by using this knowledge more and more in my life. Thanks to All 🙂 – Mohammed Valiadeh
If you are more of a hands-on learner and want to learn about design thinking then this is the Executive Education program by MIT is for you. Begin with the orientation module that discusses what the curriculum has to offer. After this, the instructor will go over the foundational skills, help you to recognize user requirements, and decide product specifications. Once this initial stage is over, you can move on to creating prototypes, designs, and architectures and performing financial analysis. With glowing reviews, it is safe to say that this course is a crowd favorite.
Key USPs-
– Explore the concepts and parameters that drive design thinking.
– Get feedback on the ideas submitted by you.
– Follow through all the steps along with the instructors.
– Look into the real-world applications of this field.
– 128 Lectures + 3 Live Teaching sessions + Group Projects + Assignments + Capstone Project
– Suggested resources allow you to supplement your learning experience.
– Earn the verified certification after the completion of the journey.
Duration: 3 months, 6 to 8 hours per week
Rating: 4.5 out of 5
You can Sign up Here  
The videos from Prof. Eppinger were clear and precise. The team assignment helped me learn the power of having a brilliant team. — Jaime Obregon, Plant Manager at Euroquip, Mexico
This certification talks about topics that help you to go beyond general management with structured models and techniques used by successful entrepreneurs and CEOs. Along with this understand the process to drive innovation at any stage of business development from developing an idea to leading a company. With glowing reviews and stellar ratings, this program is a crowd favorite.
Key USPs-
– Build your own prototype for a product, service, or business design.
– Develop a personal toolbox and managerial framework t effectively foster creativity in your organization.
– Lead strategic decision making about innovation in order to compete.
– Learn how to design and govern a team, project, and organization.
– Complete all the graded assignment to earn the completion certificate.
Duration: 6 months, 6 hours per week
Rating: 4.6 out of 5
You can Sign up Here
Review : This is by far the best course out of 4 that I have taken. Very well done. It kept me quite interested until the very end and willing to know and read more about the subjects. – RR
This course created by Rochester Institute of Technology aims to help you to learn one of the most sought-after skills in today's world. This micromasters program will cover all the techniques and methods by which design thinking can solve problems creatively, collaboratively and empathically. The lectures focus on improving user-centered research skills. It also talks about important concerns such as identifying business problems, generating innovative solutions and visualizing techniques to overcome challenges. The motive of this program is to equip you with confidence and knowledge which will help you to bring innovation to your workplace.
Key USPs-
– The program covers each concept at a perfect pace in an elaborate manner.
– The course requires a commitment of 8 to 12 hours per week.
-Enhances some of the most essential skills such as critical thinking, creativity, problem-solving and analytical skills.
– The instructors are some of the most renowned professors at Rochester Institute of Technology.
-The complete program consists of 5 courses.
Duration: 6 weeks per course
Rating: 4.6 out of 5
You can Sign up Here
This course created by The University of Sydney is aimed to help entrepreneurs as well as managers of organisations of various sizes to come up with an innovative solution for their customers. If you are at any kind of a managerial position and want to up your game then this program has got you covered. The certification covers all the concepts of design thinking. Not only that, it builds on the basic ideas of design thinking and helps to develop an advanced business strategy. Some of the key concepts that are covered in this program include how to improve existing products, overcome inter-organisational challenges and come up with breakthrough ideas. By the end of this course, you will have all the relevant information to chalk out the road map for your organisation's success.
Key USPs –
– Great course to understand the business strategies and handle organisational challenges.
-The practical application and impact of the strategies are thoroughly covered.
-The initial lectures help the students to ease into the classes before moving on to more intricate details.
– Lectures such as prototyping and product ideation help the students to gain practical experience.
-The lessons are accompanied by the abundant amount of worksheets and corporate case studies.
Duration: 5 weeks
Rating: 4.6 out of 5
You can Sign up Here
Review : I really enjoyed this course. It uses real cases to help you empathise with corporate internal issues which happens in any company. I definitely learned from it and recommend it. – Elizabeth Buckley
It is definitely pretty cool to learn a topic from someone who themselves helped to create it. This course on design learning is taught by Alan Cooper, founder of the top consulting firm Cooper as well as Teresa Brazen and Sanskriti Ayyar, two of the firm's brilliant consultant coaches. This course takes a different approach to solve strategic problems which will help you to create solutions that fulfill the requirements of the customers. Instead of just focusing on the theory, this program explains new concepts with the help of a real-life project. This is indeed an excellent opportunity to understand the hurdles and strategies required to deal with similar problems in the real world. This class is created for people who want to get started with design thinking but are not sure where to begin. The lectures are designed to be interactive so that the student can get the maximum out of it.
Key USPs-
– The course guides you through the nuts and bolts of this essential skill.
-The lectures help to understand the problems from the customer's perspective.
– The exercises help to brainstorm innovative ideas.
– Provides the opportunity to create prototypes to test ideas. This helps to reduce the cost of scaling in case the idea has to be dropped.
-The lessons are explained in an interesting and fluid manner which creates a great learning environment.
– The students in this training include students, businessmen, entrepreneurs and many more.
-55 Lectures + 15 Articles + 3 Supplemental Resources + Full lifetime access
Duration: 1 hour 30 minutes
Rating: 4.5 out of 5
You can Sign up Here 
Review : I love the Cooperistas for allowing my mind to expand and realise that in problem-solving, one size doesn't necessarily fit all. I also appreciate the reminders to listen more instead of talk more, to allow for better and more sincere feedback from our surroundings crucial to aid the project's goals. Thank you, Cooperistas! – Aditya Rahim
In this comprehensive program, you will learn how to determine what is valuable for the user early in the process by focusing your team on testable narratives about the user and creating a strong shared perspective. The lectures cover all the key concepts and practices from the agile product methodology. Apart from this, you will also diagnose what software to develop and its reasons using a set of agile user stories and prototypes.
Key USPs-
– No prior experience is required to enroll in this program.
– Learn to evaluate and explain the relevance of concepts and practices from agile development technologies.
– Facilitate narrative collaboration used stories and prototypes.
– The series of lectures are followed by regular quizzes.
– It is crucial to finish and pass the final assignment to obtain the certification.
Duration: 5 weeks, 2 to 5 hours per week
Rating: 4.7 out of 5
You can Sign up Here
Review : Excellent course to immerse me into this new world of Agile. Appreciated the details and consistency of examples to build my understanding. Enjoying this journey to new understanding. – Nneka O'Reilly
The one thing that you can instantly tell by taking this course is that 'customers are the first priority'. This course taught by Turi McKinley of frog, a global design, and strategy firm will help you to understand the factors that are essential to making the decision to solve problems at an organizational level. This is an introductory level course and hence there are no prerequisites.  After the initial introduction to the course, the lectures cover important topics such as setting goals, concept creation, collaboration, engaging in different skill sets and personalities. The chapter quizzes at regular intervals help you to keep track of the progress made throughout the course. Lectures such as service blueprint and prototyping give an idea of how such problems are handled in the real world. With over 50,000 students this course is a strong contender for the title of best design thinking course.
Key USPs-
– The tutorial is very well designed with relevant examples.
– Exercises are available for online practise as well as for download.
– The option of 'view offline' allows you to attend classes without the internet and on the go.
– The training is divided into 4 sections along with chapter quizzes.
-The complete course and study materials are available for free.
– The viewers of this training include students, salesperson, corporate trainer and many more.
Duration: 2 hours 8 minutes
Rating: 4.5 out of 5
You can Sign up Here 
This training will help you to develop a common language and understanding of design thinking across your organization. So if you are a nondesigner then you will get introduced to the concepts of the whole process involved in this field whereas designers with prior experience get a tried and tested approach to creative problem-solving. The experts will guide you through case studies and five quick activities following which you will have the knowledge of how design thinking works and the techniques to apply these tools and processes to your own work. By the end of the classes, you will have unlocked your complete potential.
Key USPs –
– The introductory lessons cover the fundamental concepts to build a strong foundation.
– Establish a common language and process for creative problem-solving.
– Inspire new thinking by discovering what people really need.
– Push past the obvious to get to breakthrough solutions and generating ideas.
– Build rough prototypes to learn how to make ideas better.
– Craft a human story to inspire others towards action.
– 16 video lessons + 5 Activities + On-demand online class + Toolkit & Certificate
Duration: Self-paced
Rating: 4.3 out of 5
You can Sign up Here
This was a great introduction to Design Thinking with good videos and great exercises along the way. -Beth
It is true that the correct solutions to some of the toughest problems do exist but there is always a possibility that the problems may be seen in a new light and someone comes up with a solution that is even better. If you are someone who has a knack for seeing problems from different angles and finally coming up with the best solutions then this course might be worth a try. This certification on the OpenLearn website is designed to enhance your natural creativity and come up with optimal strategic solutions. The program also focuses on visualising as well as articulating the solutions so that they can be communicated and used later, as and when necessary. Computing tools and online environments are also used to supplement the design thinking techniques. With stellar reviews, this program is a crowd favourite.
Key USPs-
-This is an introductory level course.
-Learn about the importance of design thinking and how is it used in different fields.
– Investigate and give your creative bones an extra push with various exercises.
-Initiates an attitude of playfulness that helps to come up with better and natural solutions.
-The enrolment in this course is free of cost.
-All the additional study materials are available for free.
-The emphasis on the practical sessions using the various computing tools makes the course more interactive.
Duration: 10 hours
Rating: 4.3 out of 5
You can Sign up Here 
So these were the 10 Best Design Thinking Tutorial, Class, Course, Training & Certification available online for 2019. Hope you found what you were looking for. Wish you a Happy Learning!
Source: Digitaldefynd