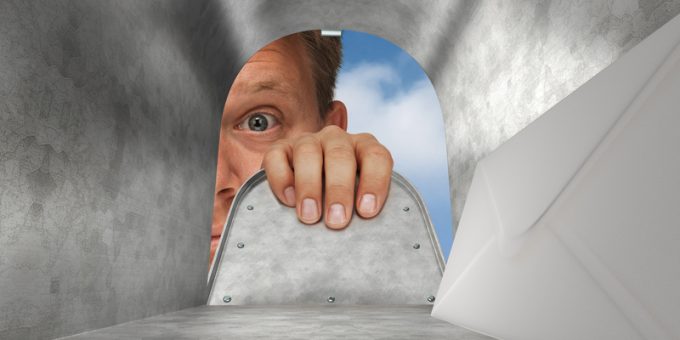 If you're selling big ticket items, you're leaving a tremendous amount of money on the table if you're not sending your prospects something in the mail. Think about it – anyone and everyone can send an email, but how many sellers reach out via the postal mail to give their prospects something tangible they can hold in their hands?
Better still, "snail" mail can't be deleted at the click of a button. And if you make it enticing enough, physical mail gets read and acted upon.
So what should you send to your prospects? According to Dave Dee, you should send a packet of info that includes the following:
– A checklist. For example, if you're selling a service then you would send a checklist entitled: 7 things you should look for when hiring a _____. This way YOU set the buying criteria and you tell the prospect what to look for.
Now here's the trick – at least ONE of those 7 things must be something that ONLY YOU do. Maybe you provide a service no one else provides, or you do it in a way like no other. Or perhaps your guarantee is unparalleled. Or you offer a free bonus service that everyone else charges for. Or perhaps you have qualifications or proven results that no one else has.
Whatever it is, it has to be something that only you have, so that when they go to compare you to others, no one else measures up to you.
– Include a newsletter of your own. It should be 2 pages long, customer oriented and include:
Bullet point tips – these could come from your website or your book – no need to write new ones
1 article which could again come from your website or your book
1 cartoon (get someone on Fiverr to create this)
1 big mistake that people make and how you correct it
Your picture
– A micro sales letter that sells them on the next step in the sales process, whatever that might be. If it's making a small order, making a phone call, visiting your website – whatever it might be, you want to move them along in the sales process.
If they don't respond to this package, Dave Dee follows up with these 3 sequential mailings.
First, he sends a gourmet cookie and a letter in a box. He uses a box so the cookie doesn't get crushed. His letter begins, "As you can see, I've included a cookie. Why have I done this? I wanted to catch your attention. As you can see this is a gourmet cookie. It's different, just like not all (Your profession, service or product) are created equal…" And then he reiterates his offer. This engages all of their senses and who doesn't love cookies? Is anyone going to throw this in the trash without at least reading it? Highly unlikely. Are they going to remember it (and you) in the days to come? You bet.
Next he sends a fortune telling fish. It's simply a little plastic fish that moves in your prospect's hand. You can find these on novelty sites. Depending on the movement of the fish, it tells you something. The chart that goes with it says if it moves up, it means the prospect is going to call you. If it moves to the left, he's going to hire you today. If it moves right, he's going to buy your product, and so forth. No matter how fish moves, it's a similar call to action
The third mailing is an Aspirin with another letter. This letter starts off with, "Do you still have this problem? We can make your headache go away…"
And if Dave still doesn't get the response or sale he's looking for, he then follows up with a year of monthly newsletters.
It sounds like a lot to put together, but once you have the system in place you never have to deal with it again. The newsletter can be timeless, so you can continue to run the same 12 issues. And the sales letters stay the same for as long as you're selling the same product or service.
Your follow up system doesn't need to be this elaborate, but one good point to take away is this – acting differently from everyone else and being more creative will get you noticed and it will get you business.
The post What to Send Big Ticket Prospects in the Mail to Increase Your Sales (Dramatically) appeared first on .
Source: pips