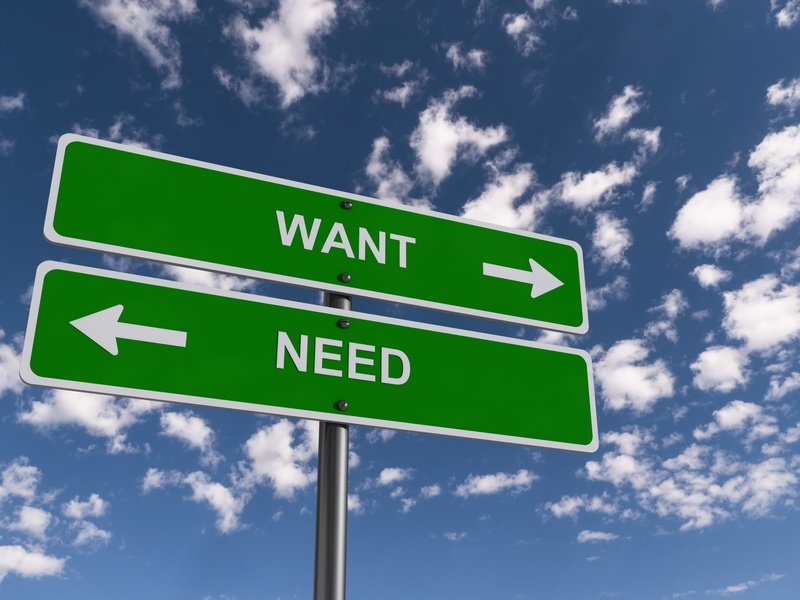 Quickly now – why do people buy from you? "Find a need and fill it, and you'll be rich," right? Probably not. People rush to buy what they want, they often delay to buy what they need. Think about it…
Look at food – does anyone need spicy nacho corn chips? No. They need fruit, vegetables, grains and meats. They don't need corn chips or snack cakes or cookies or candy. But what do they buy? Junk food. LOTS of junk food.
No one needs fast food, either. 5 minutes of planning in the morning and you can pack a nutritious lunch that's actually GOOD for you. But what do millions of people do? They stand in line or sit in a drive-thru to buy a meal that is likely to make them feel bad, both after they eat it and again when they step on the scale, all because they WANTED the fast food. They didn't need it. They would be better off without it. But that doesn't stop them from going out of their way to get it because they WANT it.
Now then – are you selling to people's wants, or their needs?
They need to brush their teeth, they want to have a sexy smile. They need to add gas to their car, they want to get to work without being stranded by the side of the road. They need to make money, they want to be rich without working. They need to lose 50 pounds, they want to have the energy to keep up with their kids during the day and still connect enthusiastically with their partner at night.
Are you in the Internet Marketing niche? Marketers need to get traffic, have products to sell and maintain an outstanding reputation online. But marketers WANT to make more money, have more time, worry less, work less, stress less, and be the envy of their ex-coworkers and a hero to their family.
See the difference?
Success is found when you sell what people WANT, not what they need.
The post People will Do Nearly Anything to Buy This appeared first on .
Source: pips